ArtServe is a company limited by guarantee and is governed by a board of directors. All directors are also trustees of the registered charity. Other officers, along with phone numbers, are listed on the contact us page.
---
Our trustees
Rachel Gallehawk
Rachel is a chartered librarian and has worked in public libraries for over 35 years. She was born in London's Finsbury Park (yes, actually in the park), migrated to Dagenham with her parents and two brothers, studied librarianship in Birmingham, then returned to Essex. She currently lives in Basildon.
She has a sense of humour, loves walking, produces podcasts for a community radio station, creates YouTube videos, and has been a Methodist local preacher since 2012. She has had a passion for writing (and reading) since an early age. She writes poetry, stories and non-fiction articles. An avid cross-stitcher, she creates and sells designs from her own photographs.
Rachel believes in the power and importance of story in worship, and in seeking connection with God through nature and creativity. She joined ArtServe in 2019, and is also a member of the Association of Christian Writers.
---
Jenny Harris (secretary)
Jenny is Methodist local preacher living in Hemel Hempstead. She has recently taken early retirement from working with and teaching IT in a primary school. She has many years experience as a Guide guider and has been a school governor, and served as clerk to the governors.
She enjoys photography, and creating movie clips of worship song accompanied by her photographs. She has an interest in history of art and has travelled widely to see exhibitions, often of the Methodist Modern Art Collection! More recently, she has discovered a gift for writing monologues and reflections which can be used in worship. She is passionate about encouraging everyone to appreciate the arts in their many forms.
---
Jacqui Hicks
Jacqui is married to Peter, they have two young children and live in Chislehurst, Kent. With a creative working background of costume design in theatre and television she is now a teaching assistant and SEN support as well as being a worship leader.
She uses all forms of creativity including art, drama and music as well as creating visual displays, to enhance prayer and worship. She has worked extensively around the country creating displays and workshops on Labyrinth, Psalms, Circle Dance, Christian Tai Chi, also introducing how to use the Methodist Church Modern Art Collection in worship and 'How To' create worship linked displays. The list continues to grow as new challenges and ideas emerge.
---
Allison Lewis (chair)
Allison has been an ArtServe member since 2010, having been encouraged to attend her first festival by Andrew Pratt. She is a Methodist Local Preacher in the Stockport Circuit and enjoys using various arts and crafts when leading worship. Her particular interest is 'art in nature' and 'nature in art' incorporating a special interest in history and the Celtic tradition. She intends to learn to spin and weave, loves practising calligraphy and having a 'good sing'.
She is a special needs Teaching Assistant in a primary school, working one-to-one with some very special young people. As administrator of ArtServe awards, she says it is such a blessing to acknowledge people who devote their God-given gifts in the life of the church. She wants ArtServe to help people of faith recognise their gifts from God and have the confidence to use them as they worship and share their faith with others.
---
Paul McDowell (treasurer)
Paul is organist at St Oswald's Church, Peterborough. After spending over 25 years at Customs & Excise in Southend-on-Sea, mostly as a computer programmer, analyst and service manager, and 12 years as a church administrator in Leigh-on-Sea, Essex, he retired with his family to a small town near Peterborough.
He is the accompanist for Peterborough Choral Society, and spends the rest of his time in various musical activities, playing for weddings and funerals as well as for regular Sunday services. He also plays accordion and piano with the folk and barn dance band The Famous Potatoes, and sings with a chamber choir in Peterborough.
---
Pauline Munns (prayer coordinator)
After teaching for nearly 25 years in London (secondary languages, then 20 years in primary schools) Pauline retired and now lives in Salisbury, where she has started to develop a long-neglected talent for art. Born into a Brethren family, she came to faith and was baptised in her teens but then migrated to the Baptist Church (her husband is a retired Baptist minister).
Soon after moving to Salisbury she was led to worship at her local Anglican church where she is a member of the PCC, sings in the worship group, and leads intercessions. She believes passionately in worship which engages every part of our being and is often frustrated that more is not made of the visual arts, dance and drama in worship. She believes there is a wealth of creativity in our churches that should be encouraged and used.
---
Rob Newton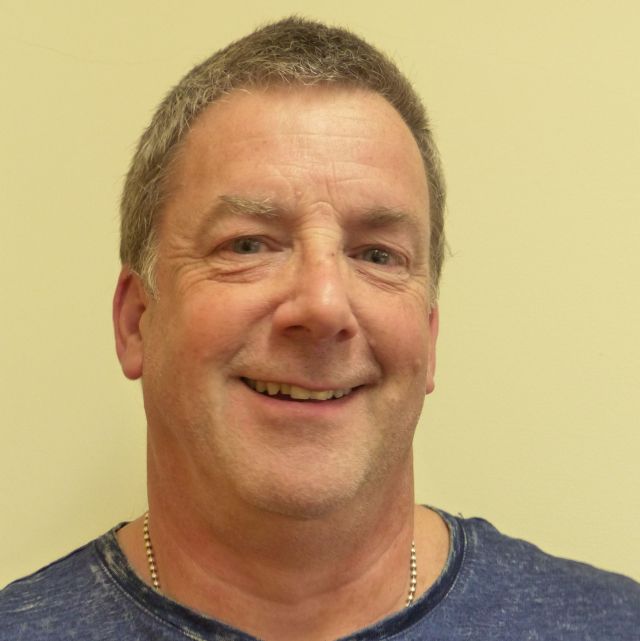 Rob is a Methodist local preacher and worship leader, and a singer-songwriter. He has been a songwriter and performer since he was 18 and has now led worship for over 30 years.
Though Rob's secular musical roots are firmly based in rock 'n' roll, he enjoys a very wide variety of music genres from folk and acoustic to reggae and hip-hop, which he brings with him into his worship music. Rob has a passion for contemporary worship music and using it to share the Gospel of Jesus.
As a former board member of the Methodist Church Music Society, Rob was a director through the exciting transition to ArtServe. Having had a break for a couple of years, he has returned to the board to help ArtServe grow and to maintain the success of the annual festival.
---
Janet Tweedale
Janet was born and brought up in Rochdale and has lived in London since 1983, working in the Civil Service for more than 35 years before retiring in 2016. She is a local preacher in the Forest Methodist Circuit in east London.
She has been a member of ArtServe from the start, having previously belonged to the Methodist Church Music Society. While her original interest in joining was mainly musical (she plays flute and enjoys singing) she has come to love the sheer variety of creative arts in worship that ArtServe exists to encourage and support.
---
Our magazine editor
Jude Simms
Originally from Sheffield, Jude has lived in many parts of England, most recently Cumbria, and now in Castle Donington. Although interested in many forms of artistic expression, writing is her first love. In 2016 she graduated from Sheffield Hallam University with a BA in English and an MA in creative writing. She has published a couple of short stories, and is currently working on two crime novels.
She enjoys the challenge of writing bible-based stories and meditations, and is particularly interested in what the Bible doesn't say – exploring the characters only hinted at in many of the stories, looking at the context in which they lived, and considering the unspoken repercussions of their encounters with God.
She is also communications officer for Methodist Women in Britain, which involves updating the website and producing publicity, newsletters, and annual reviews.
---